Glass with interlaced effect - Set of 6
Pickup currently unavailable
Add a touch of sophistication to your dining area with this versatile glass featuring an interlaced effect. Perfect for any occasion, this elegant glass is a stylish addition to your table. Upgrade your dinnerware collection with this chic and classy glass.
Size

:
 H:
14cm x Ø:7,5cm
Capacity: 330ml
Shipping
Prices are based on weight and destination. Shipping fees are calculated automatically by weight. You will be able to choose and view your shipping method and handling fees at checkout before you complete your order. All customers will be provided with tracking information once your order has been dispatched. 
Transit time is calculated considering exclusively business days. Weekends or holidays are not included in the calculation.
Shipping price:
Spain Mainland: Free Standard Shipping (3 to 5 work days) or 8.9€ Premium
Shipping (1 to 2 work days) 
Spain Balearic Islands: From 19,9€
Canary Islands: From 27,5€
Portugal: From 4,9€
Standard delivery time is between 2 to 3 work days.
-
France, Germany, Belgium, Monaco: From 12,9€
Austria, Italy, Luxembourg, Netherlands, San Marino, Vatican City: From 19,9€
Czechia, Denmark, Liechtenstein, Poland, Slovakia, Slovenia, Switzerland: 
From 29,9€
Bulgaria, Croatia, Estonia, Finland, Hungary, Ireland, Latvia, Lithuania, Norway, Romania, Serbia, Sweden: From 49,9€
Standard delivery time is between 4 to 7 work days.
-
United Kingdom: From 24,9€
USA: From 69€
Standard delivery time is between 10 to 15 work days.
Free shipping:
Free Shipping for Spain (Mainland).
In orders over 100€ for Portugal.
In orders over 150€ for

France, Germany, Belgium, Monaco.




In orders over 250€ for Austria, Italy, Luxembourg, Netherlands, San Marino, Vatican City.
In orders over 300
€

for 
Czechia, Denmark, Liechtenstein, Poland, Slovakia, Slovenia, Switzerland.
If your country is not on the list, please write us a e-mail and we will search for the best shipping quote to your country.
For urgent orders or questions, please contact us, we will always try to help you out! 
Note: shipping fees are non-refundable. We are not responsible for any duties or customs taxes for orders shipping overseas. For any other questions, please contact: hello@theportuguese-shop.com or with the chat window that you can find on our site.
returns and refund
If you want to return or exchange your order for any reason, we're here to help! We offer exchanges or returns within 14 days of receiving your order. You can return your product for store credit, a different product, or a refund to the original method of payment.
To exercise your right to cancel, you must inform us of your decision by means of a clear statement.
You can inform us by email hello@theportuguese-shop.com
We will refund you no later than 7 days from the day we receive the returned goods. We will use the same means of payment that you used for the order and you will not incur any charge for said refund.
Conditions for returns:
Take into account the following exceptions in our exchange and return policy: Here are some examples:
Discounted items are considered non-refundable sales and cannot be returned or exchanged.
Returned items must have labels attached and must be returned in their original packaging
Returned items must have no visible signs of wear or use.
Return of goods:
You are responsible for the cost and risk of returning the goods to us. You must send the products to the following address:
Calle Nord 63, 4-1
08960 Sant Just Desvern (Spain)
We are not responsible for goods damaged or lost in the return shipment. Therefore, we recommend an insured and traceable mail service. We are unable to issue a refund without actual receipt of the goods or proof of return received.
Contact us:
If you have any questions about our Returns and Refunds Policy, please contact us at hello@theportuguese-shop.com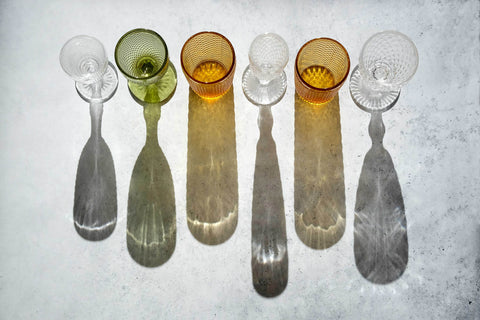 The production process starts with the selection of the finest quality raw materials, they carefully choose each material to ensure that it meets the perfect standards for clarity, color, and purity. Once the materials have been selected, the skilled artisans begin the process of handcrafting each glass.
Our skilled mouth-blown glass artisans begin the production process by carefully heating the glass in an oven to approximately 1100 degrees.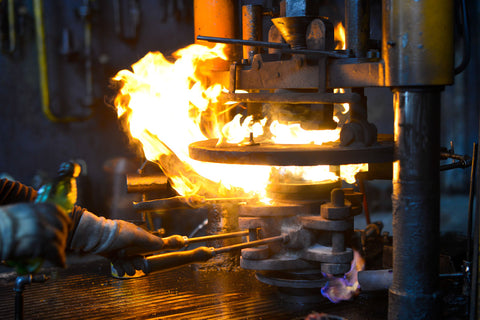 They then take the molten glass and place it into a carved iron mold, which helps to shape the glass into the desired form.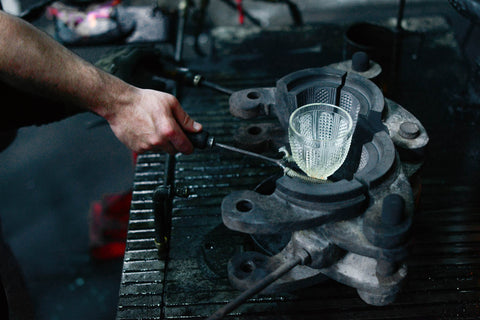 Once the glass has taken on its desired shape, it is carefully cooled and annealed to ensure its strength and durability. Finally, each glass is inspected and polished to perfection before it is ready to be shipped to its new home.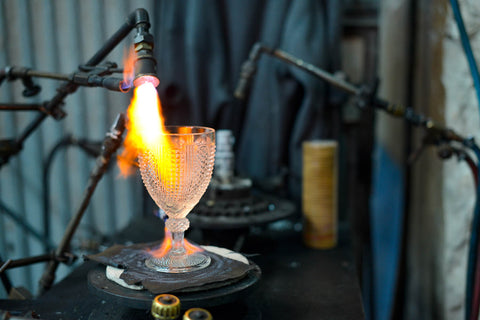 Let customers speak for us